October 25 (Fri), 2019 start 7:00 p.m. / October 27 (Sun), 2019 start 2:30 p.m.
In Commemoration of ATM's 30th Anniversary

Mito Chamber Orchestra
The 104th Regular Concert

Conductor, Horn: Radek Baborák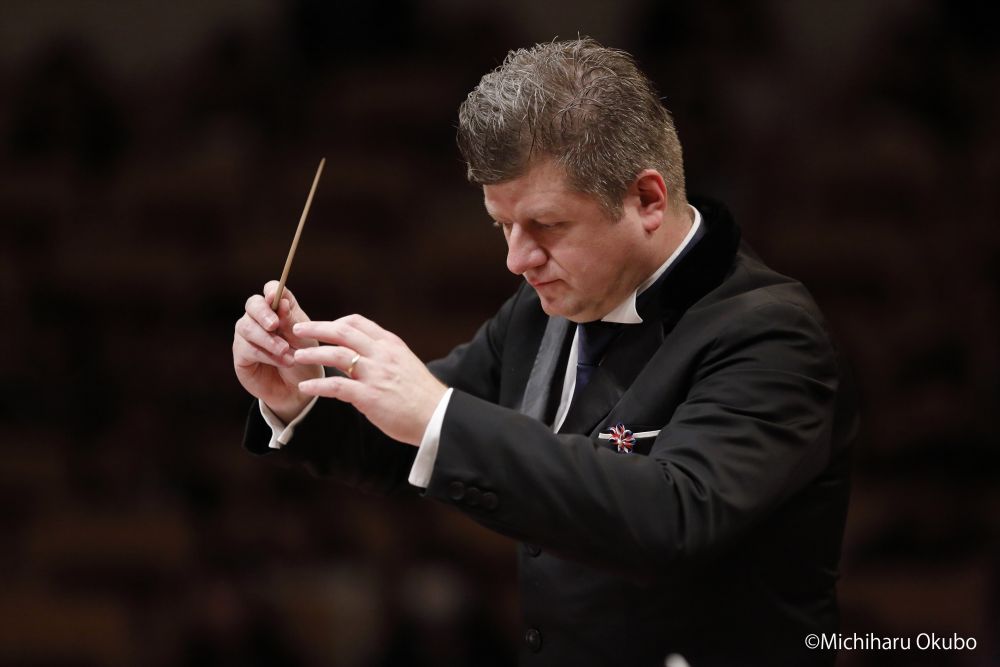 Conductor, Horn: Radek Baborák

[Program]
[Part I] Without conductor
Wolf: Italian Serenade
Rosetti: Horn Concerto in d minor Murray C38

[Part II] Conductor: Radek Baborák
Wagner: Tannhauser overture
Bruckner: String Quintet in F major, Adagio (3rd movement)
Liszt: Hungarian Rhapsody No.2 in c minor, S.359-4
Radek Baborák
Conductor, Horn
Profile
Radek Baborák ranks among the most outstanding figures on the international music scene. He performs as a soloist with leading world orchestras and collaborates with top conductors and musicians. As a guest he regularly appears at prestigious festivals and his concerts have been recorded and broadcast by numerous radio and television stations. His vast discography includes prized recordings released by leading publishers of classical music.

Expert critics and listeners appreciate his elegant and spontaneous style, his melodious tone, and his virtuoso technique, which allows him to overcome the limits of the horn and broaden and enrich the horn repertory. He is the only performer who regularly appears in recitals with piano, harp, organ, orchestra and string quartet.

As a soloist he has performed with the Berlin Philharmonic conducted by Daniel Barenboim and Simon Rattle, and with the Munich Philharmonic under James Levine. He regularly gives concerts with Seiji Ozawa.

Chamber music forms an essential part of Baborák's musical life. He is the artistic leader and conductor of the Czech Sinfonietta, Prague Chamber Soloists, Czech Horn Ensemble, Afflatus Quintet, and Baborák Ensemble. After eight seasons as principal horn with the Berlin Philharmonic, Baborák decided to leave the orchestra in order to focus on a solo career, as well as teaching and conducting.

Born in 1976, he started playing the horn at the age of eight, taught by Prof. Karel Křenek. This was followed by the Prague Conservatoire with Prof. Bedřich Tylšar. He is the winner of competitions in Geneva, Markneukirchen, and the ARD Munich. Baborák teaches at the Academy of Music in Prague.

The instrument he is currently playing is "Dietmar DÜRK - D3".

Radek Baborák turned seriously to conducting in 2010. Having spent fifteen years as the principal horn in several orchestras - namely the Berlin Philharmonic, Munich Philharmonic, Bamberg Symphonic and Czech Philharmonic, he left behind the secure life of an orchestral member and set off on a journey as a horn soloist,chamber music player, teacher and conductor. In a completely natural way he is continuing the tradition of the soloists and conductors who wish to realise their musical dreams and visions not only through an instrument at which they excel but, enriched by their experiences of orchestral and chamber music, focus their talents towards the interpretation of symphonic compositions as conductors. Maestro Daniel Barenboim is an example of such a conductor, and for Baborák a model figure, inspiration and mentor.

Baborák's conducting debut came during a European tour with the Mito Chamber Orchestra (MCO) in 2008, when he was asked by members of the orchestra to step in for the indisposed maestro Seiji Ozawa.

Since this initial, pivotal moment, Radek Baborák has conducted a number of orchestras, including the Prague Symphony Orchestra FOK, State Philharmonic Brno, Prague Philharmonia PKF, the National Theatre Orchestra, Staatsorchester Rheinische Philharmonie Koblenz, Hyogo PAC Orchestra, Mito Chamber Orchestra, Gunma Symphony Orchestra, TOHO University Orchestra, New Japan Philharmonic. He has collaborated with the prominent soloists: Yefim Bronfman, Saleem Abboud Ashkhar, Marie-Piere Langlamet, Dalibor Karvay, Jana Boušková and Janne Saksala.

As a conductor/soloist he has taken part in the festivals: Maggio Musicale Fiorentino, Prague Spring and Smetana Litomyšl; in a cycle of concerts in Gasteig in Munich, conducted in the Auditorium Reina Sofia, Prinzregent Theatre Munich and in the Berlin Philharmonie, where he conducted das Sinfonie Orchester Berlin.

He is the founder and leader of the Czech Sinfonietta, which is the resident orchestra of the Smetana Litomyšl festival, artistic leader of the Czech Horn Chorus, the Baborák Ensemble and Prague Chamber Soloists.

He just named Principal Guest Conductor of Yamagata SO beginning in April 2018
Close
Mito Chamber Orchestra
Profile
The Mito Chamber Orchestra (MCO), ATM's exclusive in-house orchestra, was established in 1990 concurrently with the opening of the cultural complex at the behest of ATM's first Director General, the late Hidekazu Yoshida(1913-2012). The group's general director and occasional conductor is the renowned Seiji Ozawa. The regular membership of the ensemble comprises 23 musicians ? 18 Japanese and 5 foreigners - who are active worldwide. Before each concert, MCO's members gather from all around the world to the city of Mito to rehearse intensively.
A unique aspect of MCO is its ability to wear "two different faces" flexibly. The first is its nature as a conductor-less ensemble. Thanks to the repeated rehearsals made in a painstaking manner by the group's member artists, each of whom has reached a sophisticated level of musical skill and musicality, MCO has developed a depth of mutual understanding that creates a sound which combines the meticulousness of a chamber group with the sense of scale of a larger orchestra. The fruits of their labors, carefully cultivated thus, are also expressed fully when the ensemble puts on its second face: its nature as a "conductor-led" ensemble. Even when they encounter differing styles of direction under individual guest conductors, the penetration of a shared musical language among the individual members allows them to immediately adapt smoothly and seamlessly to each conductor's unique style of musicality, all the while maintaining the ensemble's unique musical performance style.
Taking advantage of those two characteristics - wearing its "two faces" - MCO has presented quite a few notable concerts down the years. As a conductor-less ensemble, it has put on many conceptual programs. At the same time, its concerts led by conductors have also been highly rated: besides Seiji Ozawa, MCO has also welcomed Szymon Goldberg, Rudolf Barshai, Trevor Pinnock, Jean-Francois Paillard, Ton Kopman, Jun Maerkl, Hiro Wakasugi, Jun'ichi Hirokami, Heinz Holliger, and Kazushi Ono at the helm. Meanwhile, the group has also presented memorable concerts featuring such soloists as Mstislav Rostropovich (cello), Andras Schiff (piano), Bruno Leonardo Gelber (piano), Takahiro Sonoda (piano), Doris Soffel (mezzo-soprano), Karl Leister (clarinet), Nathalie Stutzman (alto), Rainer Kussmaul (violin), Andreas Steier (harpsichord and fortepiano), and Yuri Bashmet(viola) among others. Occasionally, MCO has actively commissioned and debuted new works by Japanese composers, including Toshi Ichiyanagi ("Kisui-iki"), Hikaru Hayashi ("Hika," winner of the 1995 Otaka Prize), and Yoshihisa Taira ("Saiun"), who just died in March 2005. So far the ensemble has produced 17 CDs - under the Sony Classical, Universal Music, DECCA and 3 BD / DVD under the NHK-enterprises- each of which has garnered excellent reviews from fans and music critics alike.
MCO put on its first performance outside of Mito in 1996, with concerts held at various sites around Japan, including Suntory Hall in Tokyo and the Osaka Festival Hall. The group has also spread its wings to perform abroad, the first tour overseas having taken place in Europe in June 1998. At the time, MCO visited five cities, having received invitations to perform at the Vienna Art Week, the Ludwigsburg Castle Festival, and the Florentine May Music Festival, with additional concerts in Hamburg and Zurich. The European audiences were astounded at the excellence of the group, as attested by newspaper reviews. In March 2001, MCO returned to Europe for its second tour of that continent, this time performing in Milan, Vienna, Paris, and Munich. By this time, of course, the ensemble had already established a firm reputation in Europe, and the various audiences were highly appreciative again.
In June 2008, MCO run its third tour for Europe without a conductor. MCO received an invitation from Munich, Florence, and Madrid and the performances received the highest praise.
Close
Outline
Title

In Commemoration of ATM's 30th Anniversary

Mito Chamber Orchestra
The 104th Regular Concert

Conductor, Horn: Radek Baborák

Venue
Concert Hall ATM
Dates
October 25 (Fri), 2019 start 7:00 p.m. / October 27 (Sun), 2019 start 2:30 p.m.
Grant
Mito Arts Foundation
Sponsored by
Adastria Co., Ltd., Mito Securities Co.,Ltd., Genden Fureai Ibaraki Foundation, Yoshida Oil Co.,LTD, Mito Keisei Hotel
In cooperation with
All Nippon Airways Co., Ltd
Supported by
THE IBARAKI SHIMBUN Co.,Ltd., Mito Chamber of Commerce and Industry
Subsidized by
Agency for Cultural Affairs, Government of Japan | Japan Arts Council