The entrance hall serves as the common entrance lobby for ATM visitors attending concerts, plays and exhibitions.
Modeled after the style of a European church, the lofty space of the entrance hall features an organ on the second floor.
The hall was designed to fulfill two major purposes. As the normal entrance into the buildings of the ATM complex, the space allows visitors to pass freely from the east and the west.
About the organ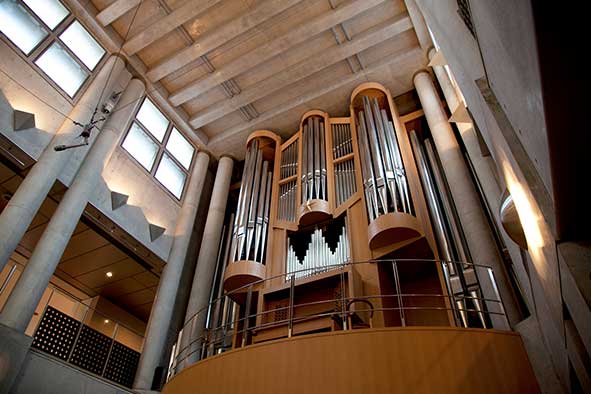 A organ has been installed on the second floor of the ATM Entrance Hall in the fashion of European church architecture. It was built by two Japanese men who underwent training in Germany and have received the official credentials of meister. If the movable doors of the Entrance Hall are shut, the space undergoes a radical transformation allowing the beautiful sounds of the organ to reverberate.
Free noontime or early afternoon organ concerts are given three or four times a month on weekends. to give people the chance to enjoy the timbre of the organ, one of the largest ever constructed in Japan.