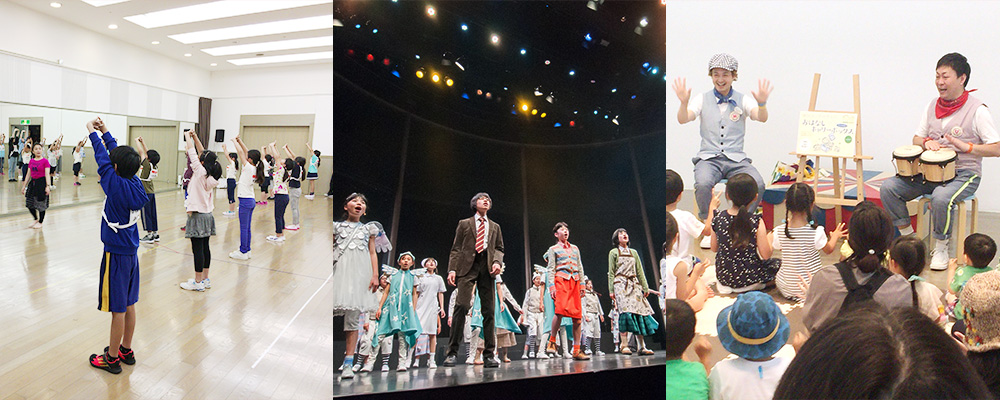 The ACM Theatre also carries out active outreach programs, including the Mito Children's Musical School and the Performances for the Appreciation of Dramas by Elementary School Children. Those education programs are carried out throughout the year from a long-term perspective.
For Children
Mito Children's Musical School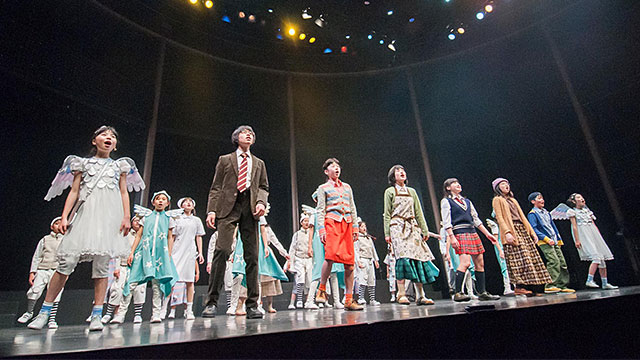 A course given by professionals from the musical world, who will teach the young students--from fourth to ninth grade--the basics of song, dance, and acting.
Already in its sixth year, the course has become firmly entrenched in the local community, with many in Mito and vicinity asking to participate.
There is two different courses: (1) a performance course lasting approximately nine months aimed at letting students experience the full range of activities involved in making a musical production, with an eventual stage performance at the conclusion; and (2) a short course lasting about four months, with the students experiencing the basics of a musical production, culminating in their own performance in the studio at the end.
Yuu-kun & Mat-san's "Carrying Box of Stories" (held once monthly)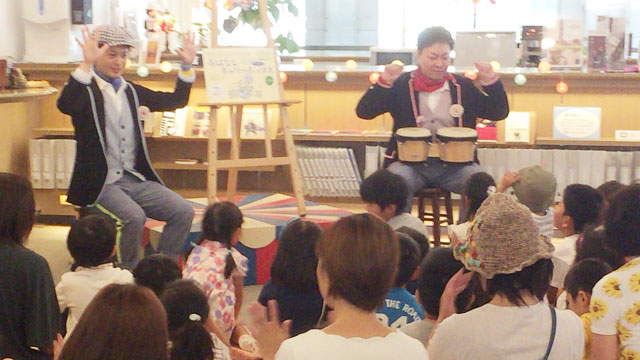 Once a month, Yuu-kun & Mat-san take their "carrying box of stories" around different places within Art Tower Mito and read aloud delightful illustrated books for children.
※Free admission
Performances for the Appreciation of Dramas by Elementary School Children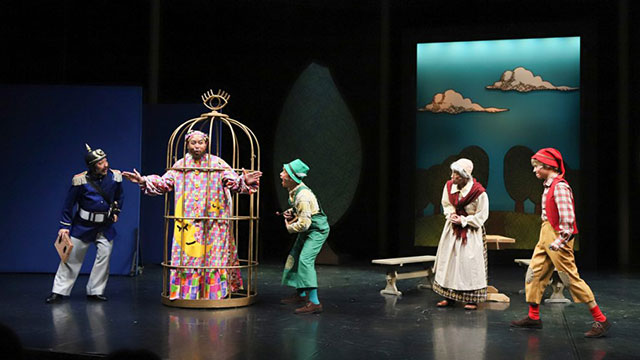 All the fourth-graders from Mito City municipal elementary schools will be invited to the ACM Theatre this fall, where they will not only get the opportunity to experience the thrill and appeal of watching a live play themselves, but will also get lessons in proper theater etiquette.
Co-sponsor: Mito City Board of Education
For students aged fifteen and older
Recitation Studio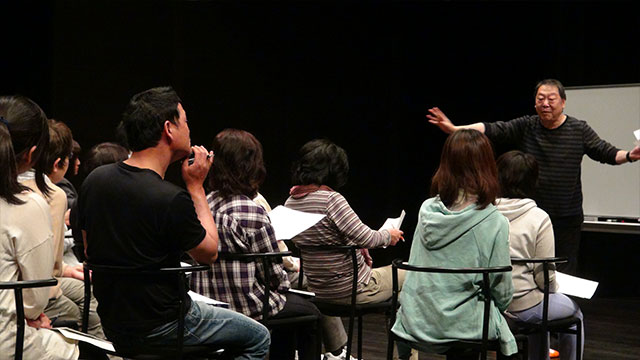 Instructors: Haruhiko Jo (actor, director, leader of the dramatic troupe "Za"), Kazuma Mori
The aim of this class, designed for students aged fifteen and older, is to get people to take a fresh look at the Japanese language--which they use every day without a second thought--and gain a new appreciation of its beauty as they become expert manipulators of language through the oral recitation of texts by writers from all ages and countries. At the end of the course, there will be a public recital at ACM Theatre in February for the students to demonstrate the results of their training.
The main instructor will be Haruhiko Jo (b. 1948), formerly a member of the Shiki Theatre Company, who went on to appear as a regular in many of the productions by the famed theater director Yukio Ninagawa (1935-2016). He is also active today as a voice actor, and leads his own dramatic troupe, called simply "Za," where he trains future generations of actors. Besides acting, he travels to all corners of the country and holds workshops for ordinary people in acting and recitation, having gained a solid reputation as a veteran in that respect as well.
Performing Arts "Lesson Project"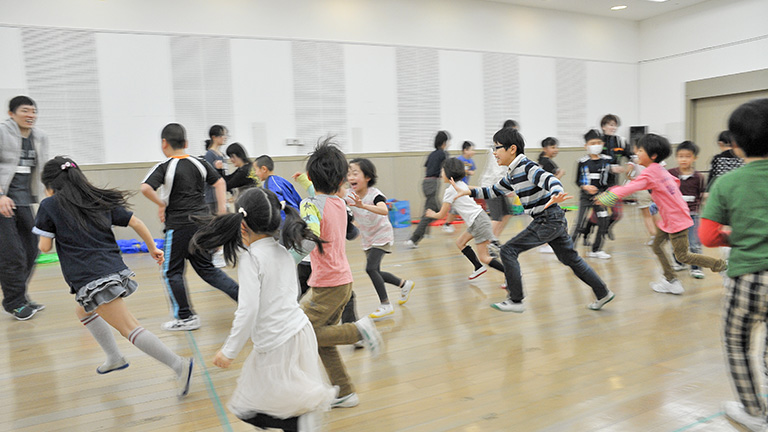 Theater has been described as a "composite art," given that multiple genres go into its production. The "Lesson Project" consists of several workshops in which various professional instructors from a wide variety of theater-related genres are invited to speak at Art Tower Mito, giving students the opportunity to broaden and deepen their knowledge and experience of useful secrets and tips for producing plays. It is a short-term program, with each of the instructors giving a one-off class, allowing students to enjoy the hidden essence of theater. Not only will there be hands-on experiential types of lessons, but the course will also include lectures given by playwrights, and so forth.
"How to Develop a Voice That Projects"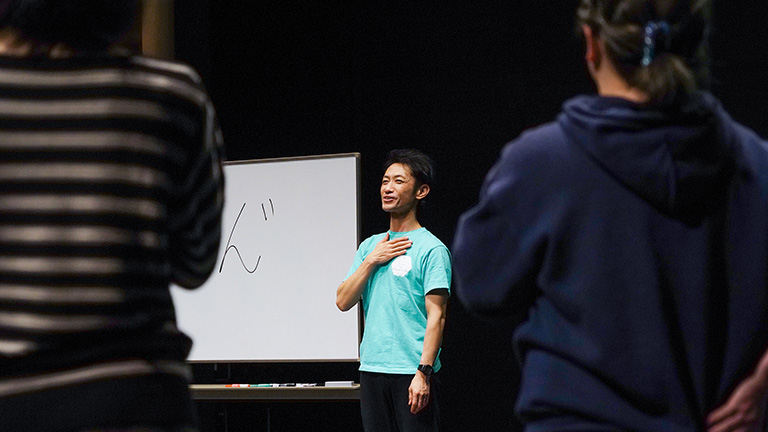 Instructor: Ryo Shiotani
Employing the techniques used in theater, this workshop will teach students to develop attractive voices, a skill that will be useful in daily life as well.
"Let's Try Play-acting!"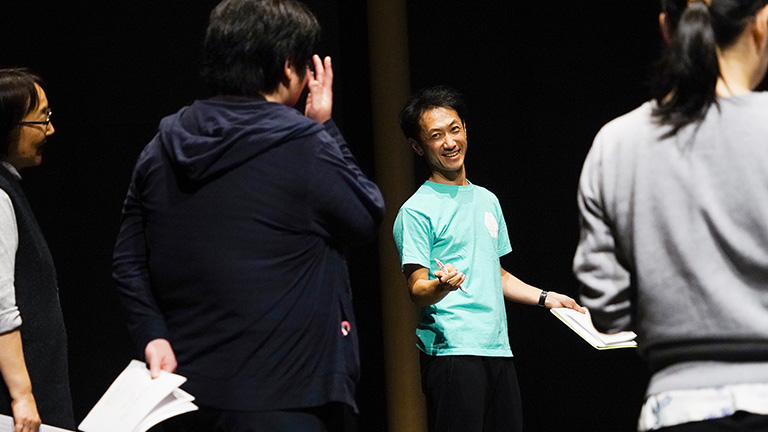 Instructor: Ryo Shiotani
A theater workshop giving participants extensive experience in what it is to be an actor, from basic training to the production of a small play.