8 Days - Beuys in Japan
October 31 (Sat.),2009,to January 24 (Sun.),2010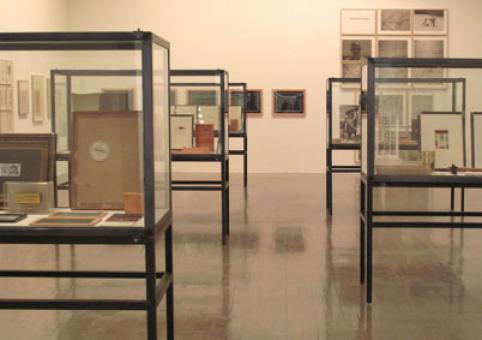 We are pleased to announce the holding of the "8 Days ; Beuys in Japan" exhibition at the Contemporary Art Gallery, Art Tower Mito (ATM). The exhibition explores the works and activities of Joseph Beuys (1921-1986), an outstanding artist of 20th-century Germany, through his relationship with Japan.

Joseph Beuys was a very influential artist for his innovative ideas of art. He provoked society through his activities and expanded the notion of art into politics, the economy and social movements.

Beuys was born in Krefeld, Germany in 1921. As a German soldier, he fought in World War II; however, in 1944, he was shot down during a flight above the Crimean Peninsula in the Soviet Union, and was rescued by a Tatar tribe. After the war, he entered the Düsseldorf Academy of Fine Arts to study sculpture, and then started his career as an artist and professor.

In the early 1960s, Beuys joined Fluxus, which was founded by George Machiunas. Nam June Paik was also a member. With this group, he first unveiled his performance, the so-called "Aktion," to the public.

In the late 1960s, when student movements became more active, Beuys formed the German Student Party and protested against the academic system, although he himself was a professor. In the 1970s, Beuys founded the "Organization for Direct Democracy through Referendum" and the "Free International University," and started engaging in the ecology movement. Those activities were already beyond the existing definition of "art." Behind those activities were Beuys's ideas of an "extended idea of art" and "social sculpture." The former is the idea that art involves not just drawing paintings and making sculptures, but extends also into every action of our daily lives, as long as it is practiced with subjective creativity. The latter means that society is molded by humans' creativity.

In 1984, Beuys visited Japan and showed various works, including installations and performances, while also holding discussions with students and giving lectures. He left a strong impression in the Japanese art world. ATM's exhibition, "8 Days – Beuys in Japan," will include important works and documents such as a never-before-seen documentary film made in 1984 when Beuys came to Japan, as well as more than 250 multiple pieces and a video interview with members of the Japanese art world who had contacted Beuys. In addition, the ideas behind Beuys' work will be investigated through an international symposium, a discussion session, and a live performance.
Outline
Venue
Contemporary Art Gallery, Art Tower Mito
Dates
October 31 (Sat.),2009,to January 24 (Sun.),2010
Closing dates
Mondays (Tuesdays if Monday is a national holiday)
Opening hours
9:30 a.m. - 6:00 p.m. (no admittance after 5:30 p.m.)
Admission
Adult ¥800, Advanced purchase and Group discount(more than 20 people) ¥600, Admission Free: Child aged under 15/Senior Citizen over 65/Disabled pass holder and an attendant each/One year pass holders
Organized by
Mito Arts Foundation, The Yomiuri Shimbun
Grants from
Japan Arts Fund, POLA ART FOUNDATION, YOSHINO GYPSUM ART FOUNDATION
Supported by
Embassy of the Federal Republic of Germany, GOETHE-INSTITUT JAPAN, I&S BBDO Inc., Asahi Breweries,Ltd., SOUM Corporation, TAKEO CO., LTD., Research Group of Theory and History of Arts, Graduate School of Letters, Hokkaido University
Curated by
Mizuki Takahashi (Curator, Contemporary Art Center, ATM)
Curatorial assistant
Sayako Kadowaki (Assistant Curator, Contemporary Art Center, ATM)
Contact
TEL 029-227-8120
Contemporary Art Center