Publicness of the Art Center – Phase1
EXHIBITION
GALLERY
FOR ALL
Admission free
Publicness of the Art Center – Phase1
March 2 (Sat.),2019,to May 6 (Mon),2019 10:00-18:00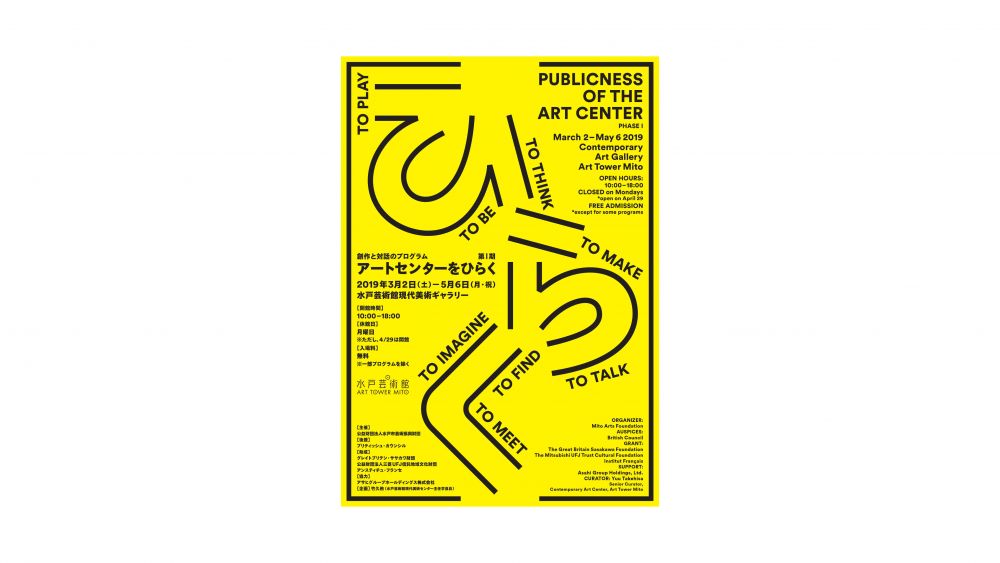 In 2020 marking 30 years since its opening, Art Tower Mito's Contemporary Art Center presents "Publicness of the Art Center," a new program exploring from various perspectives the role required of an art center in today's changing society. Based on the Contemporary Art Center's unusual status in Japan as a Kunsthalle-style cultural institution implementing its own programs and working with artists to produce artworks, the first phase of "Publicness of the Art Center" will address the theme of creation and dialogue through employing the Center's gallery space for work created during artist residencies and a long-term workshop series, as well as for a program of public events and a cafe. Admission is free with some exceptions.
During the program, artists will stay at the venue and create new work, while visitors can also participate in various activities and discussions. Through these pillars of creation and dialogue, the program aims to search with visitors for notions about what kind of "publicness" the art center should have.
The results of the first phase will be presented during the second phase of the program. Further details will be announced from April.

Highlights
The first phase of "Publicness of the Art Center" will consider the roles expected of an art center beyond its conventional functions through utilizing the gallery space in the following experimental ways.

Opening up the art center as a place for creativity
The Contemporary Art Center's gallery will be open to the public not only as a place for viewing completed works of art, but also the site and process of artistic creation, thus sharing with visitors the way art is made.

Opening up the art center as a place for dialogue
Against a backdrop of the spread of social media and rapid changes in our means of communication today, there is renewed attention on public spaces where people actually come face to face and exchange words. The gallery will aim to create a polyphonic space where people with diverse ideas can engage in dialogue about art and the social phenomena that surround us.

Opening up the art center as a "third place"
The special cafe installed inside the Contemporary Art Center's gallery every spring since 2004 has transformed into a platform for people with diverse values to intersect, and for people to have encounters with others. During "Publicness of the Art Center," this cafe will function more fully as a so-called third place (that is, a place that is neither the home nor a school or workplace), as a realm of social connections where individuals and families, regardless of age or ability, can spend time however they like.

Opening up the art center as a place for cultivating independent activities and initiatives by visitors
Various workshops about making and mending things will explore practical ways to live creatively by one's own hands as an alternative to only consuming. The club activities will involve a range of age groups and allow participants to pursue projects independently.
Outline
Venue
Dates
March 2 (Sat.),2019,to May 6 (Mon),2019
Open Hours
Closed
Closed on Mondays (except April 29,public holidays)
Admission
Free *except for some programs
Contact
Mito Arts Foundation TEL:029-227-8111(9:30~18:00, Closed on Mondays )

【Organized by】
【In Association with】
Embassy of France/Institut français du Japon, British Council
【Grant】
Institut français, The Great Britain Sasakawa Foundation, The Mitsubishi UFJ Trust Cultural Foundation
【Support】
Aasahi Group Holdings, Ltd.
【Curator】
Yuu Takehisa (Senior Curator, Contemporary Art Center, Art Tower Mito)