Music for Environment-Sprout sounds, Resonate scapes-
PLAZA
EXHIBITION
PARTICIPATE
OTHER EVENT
Related program of Mihcikusa: Walks with the Unknown

Music for Environment-Sprout sounds, Resonate scapes-

Tuesday (national holiday), 3 November, 2020 17:00-19:30 (Venue opens at16:30.)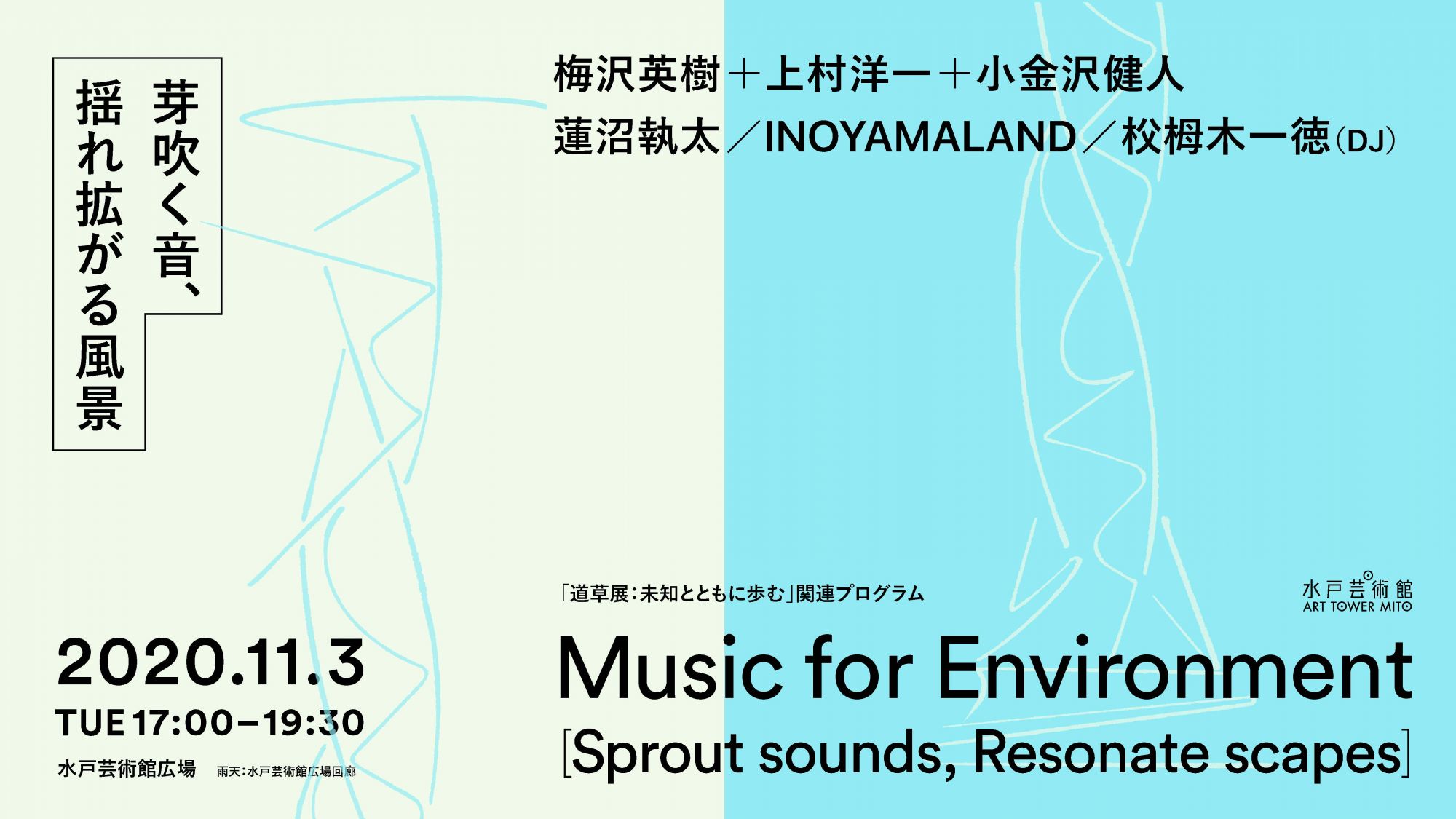 As various arts and cultural events continue to be significantly affected by the COVID-19 situation, sites for music have also been compelled to evolve their format and role in a way that would allow them to coexist with the unforeseeable changes waiting ahead. Music for Environment -Sprout sounds, Resonate scapes-, which will be held at the Plaza, Art Tower Mito as a coinciding program of Michikusa: Walks with the Unknown, is an event that reconsiders the relationship between music and the "environment" that surrounds our world in the time of dramatic change. By featuring performances of three artists/musicians, this program seeks to present diverse approaches and sensibilities on sound and space, presenting their commonality and differences to the audience. This program seeks to embark on this adventure of laying the groundwork for new music in future domains alongside the audience while appreciating the reality of an environment that is set in motion through the act of "listening."

The latest information will be updated on the event's teaser site (https://www.mfetokyo.com), and the original mixes of fellow artists will be regularly made available. Currently, an audio mix containing unreleased music by Yutaka Hirose, the artist who has attracted much attention for the reissue of Nova+4 for the first time in 33 years,
Outline
Venue
Plaza, Art Tower Mito (The venue will be changed in bad weather condition.)
Dates
Tuesday (national holiday), 3 November, 2020
Open Hours
17:00-19:30 (Venue opens at16:30.)
Artists
Hideki Umezawa+Yoichi Kamimura+Takehito Koganezawa, Shuta Hasunuma, INOYAMALAND, Kazunori Toganoki (DJ)
Capacity
50 sheets with advanced booking (there will be additional sheets available on site.)
Please book your sheet by emailing following information to
atmcac[a]arttowermito.or.jp ([a]→@)
1. Name
2. Telephone
3. City of residence (optional)
Please be noted that you may reserve ONE sheet per email. We do not accept group booking for this program.
Price
Free (Exhibition ticket [900 yen] is required.)
Contact
Mito Arts Foundation TEL:029-227-8111(9:30-18:00, Closed on Mondays )
【Organized by】
Music for Environment, Mito Arts Foundation